• black business • black wealth • community events • cultural events • entrepreneurs • financial education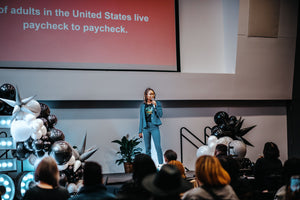 FOROURLASTNAMES APP HAS FIRST PLACE PITCH When Ray'Chel launched Raise the Bar Investments, LLC last year, she simply wanted to create financial literacy education that was minority-friendly, easy-to-understand & easy-to-apply.  Last month, she pitched a tech-enabled, scalable version of her business, which won 1st place at the Build in Tulsa Female Founders Pitch Night! The "ForOurLastNames" app will bring together: 1. EdTech 2. FinTech & 3. Mindset in order to create educated & empowered investors among underrepresented groups. She would like to give thanks to the Raise the Bar family who have made the education workbooks internationally sold, showing the need...
---
• business • entrepreneurs • entrepreneurship education • young business owners • young entrepreneurs
"Why Entrepreneurship Is The New Education" is a opinion piece on the importance of entrepreneurship, a tenant that Raise the Bar Investments emphasizes especially for young people.